Since 2006 the Wismar University has taken care of the vocational legacy of Ulrich Müther, civil engineer and entrepreneur. The inventory consists of 156 running metres of records (construction records, personal documents, manuscripts, books), 32 models, almost ten thousand drawings and more than five thousand photographs as well as technical equipment and furnishings. The Müther-Archiv secures this inventory where it is then structured using scientific means. Partnering with the Architecture Archive of the Akademie der Künste in Berlin Müther's works were gathered during a three-year project, which was funded by the Federal Ministry of Education and Research. In February of 2020 the project was finished on time and the data has since been available online as a digital resource for the public and for research purposes.
Since March of 2020 the university has taken first steps in digitalising the archive. The Müther-Archive is part of the "Föderation deutschsprachiger Architektursammlungen" (Federation of German-speaking architectural collections). The acquisition of further pieces from other architectural creators is planned.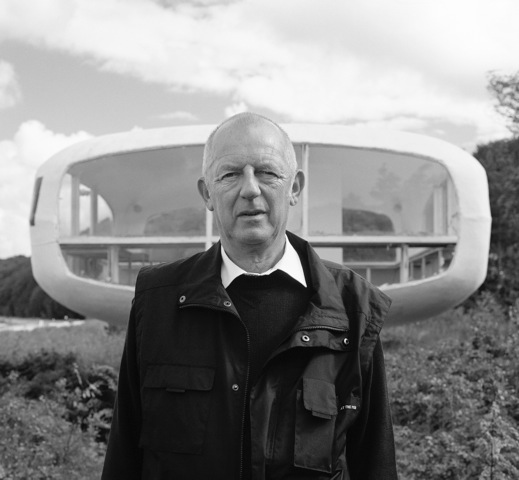 Ulrich Müther (1934–2007)
Civil engineer Ulrich Müther was one of the formative influences of east german post-war architecture. During the sixties he specialized in the construction and implementation of concrete shells unique in the DDR.
Müther was following an international trend: The elegant shell structures of engineers and architects like Félix Candela in Mexico, Pier Ligi Nervi in Italy, Eero Saarinen in the USA or Heinz Isler in Switzerland were recognised worldwide. Müther realised more than 70 striking buildings usually in cooperation with architects. A majority of these buildings are in Mecklenburg-Vorpommern, but Müther's work can also be seen in other regions of east Germany and around the world.
Among his more prominent works are the exhibition hall "Bauwesen und Erdöl" in Rostock-Schutow (1966), large restaurants like "Teepott" in Rostock-Warnemünde (1967/1968), "Ostperle" in Glowe (1967/1968) and "Ahornblatt" in Berlin (1969-1973; torn down in 2000), the Café "Seerose" in Potsdam (1982/1983) and the lifeguard tower at the beach of Binz on Rügen (1979-1982).
Hochschule Wismar
University of Applied Sciences
Technology, Business and Design
Müther-Archiv
Haus 7a
Philipp-Müller-Straße 14
23966 Wismar
muether-archiv@hs-wismar.de
Publication series of the Müther-Archive
In 2014 the archive started publishing themed booklets on Ulrich Müther's constructions and projects. So far three booklets were released, the last one being "Ulrich Müther. Schalenbauten in Magdeburg" (2017).
The publication series and postcards can be ordered on the website of the archive association.
---
News
(Kopie 11)
Oops, an error occurred! Code: 20211016005246a1621319