Videoconferencing has been used successfully for many years to facilitate communication between people at different locations – not least for the benefit of external project partners and international partner universities. Collaboration in virtual classrooms also offers extensive functionality.
Do you need a suitable location to hold a conference?
Make use of our two modern conference rooms.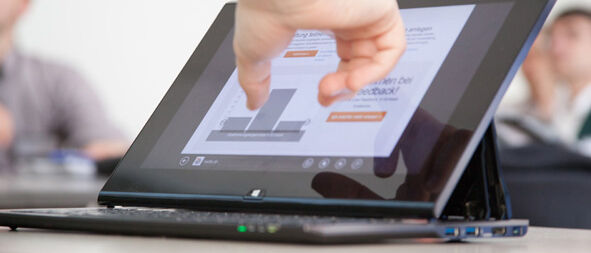 ---
Video conferences (Lifesize Video)
Lifesize Video scores as a low-threshold and stable solution for high-quality video calls with the possibility of desktop transmission. Up to 120 people can connect online via an encrypted connection. Live streaming is possible, any device can be used.

In addition, the application can also be used to easily create tutorials. Camera and screen recordings can be combined for this purpose. The recordings can be easily integrated into other applications afterwards. Example: If a lecturer receives more inquiries about a complex subject, he can create a tutorial in Lifesize Video and then deposit it in Stud.IP at his event.
The use of Lifesize Video is open to all university members as well as external cooperation partners. The only requirement is the installation of the software.

Further informationen (in German)
---
Virtual classrooms (Adobe Connect)
Adobe Connect is a conferencing solution that is ideal for generating virtual classrooms because of its broad feature set. From online events such as small-scale meetings to online seminars with up to 200 participants, everything is possible. Due to the complexity of the application, a deeper familiarization with the functions is recommended.
Further information (in German)
---
Comparison of features
| feature | Lifesize Video | Adobe Connect |
| --- | --- | --- |
| spezialization | audio and video conferences | virtual classrooms |
| max. number of participants | 120 | 200 |
| transmission stability | high | normal |
| audio und video quality | very good (HD) | normal |
| representation on mobile devices | ✅ | ✅ |
| live streaming | ✅ | ✅ |
| compatibility with other systems | ✅ (H.323, SIP) | ❌ |
| installation effort | low | higher |
| recording | ✅ (on demand) | ✅ (on demand) |
| server | inhouse | external |
Contact
Birger Huth

Dipl.-Ing.

Scientific Assistant

IT-Service- und Medienzentrum

Building 26 · Room 130